With the support of our wonderful community over the last FOURteen years, OVER $700,000 has been raised to benefit the Lake Highlands area.
Lake Highlands Trestle
The LHJWL, in partnership with DART and the LH PID, is excited to showcase initial renderings for the Lake Highlands Trestle at White Rock Trail and Church Road. We will be attaching metal "LAKE HIGHLANDS" signage on both the east and west sides of the trestle, providing a welcoming gateway for all guests and residents. Additional planned improvements include paint, cleanup of the area around the trestle, landscaping and lighting, pending approval and fundraising. Please consider donating to the LHJWL or participating in our 15th Annual Run the Highlands on April 27, 2019 to contribute to this exciting project as we work to make the trestle a proud Lake Highlands landmark once again!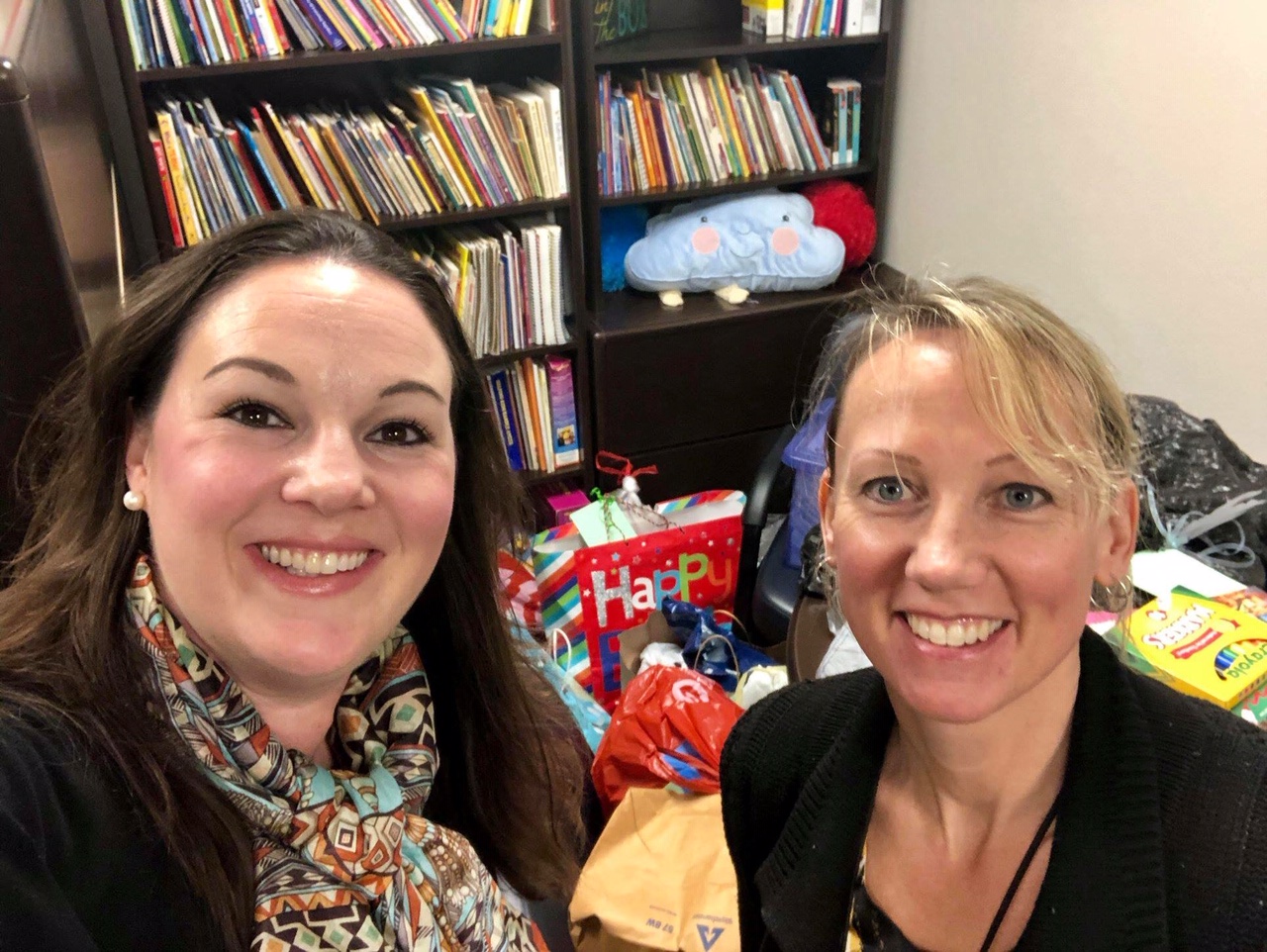 Angel Tree
LHJWL strives to give our kids a merry Christmas every year! Each holiday season, in addition to Light Up The Highlands, we run an Angel Tree program to deliver clothing needs and wants of kids in the Lake Highlands community. Since 2016, we've given these holiday gifts to more than 250 kids at six Lake Highlands elementary schools.
In 2018, we supported 5 schools in LH (Aikin Elementary, Thurgood Marshall Elementary, Stults Road Elementary, Skyview Elementary, and Forest Lane Academy), which included 101 angels!
School Supply Drive
For the last few years, LHJWL has supported area schools by donating much needed school supplies. These supplies help children in need, as well as to those newly enrolling in the area.
In 2017, we donated the following items to LJHJ, FMJH, and LHHS:
192 notebooks

158 packs of pencils

77 binders
Flag Pole Hill Playground
The Lake Highlands Junior Women's League partnered with The City of Dallas Park and Recreation Department and other community organizations to fund 'A Signature Playground for People of All Ages and Abilities' at Flag Pole Hill. We used the money raised from both 2017 & 2018 Run the Highlands towards the creation of this amazing, "all-inclusive" park for our community. Initial design renderings for the new playground at Flag Pole Hill are included below. The park officially opened for play September 13, 2018.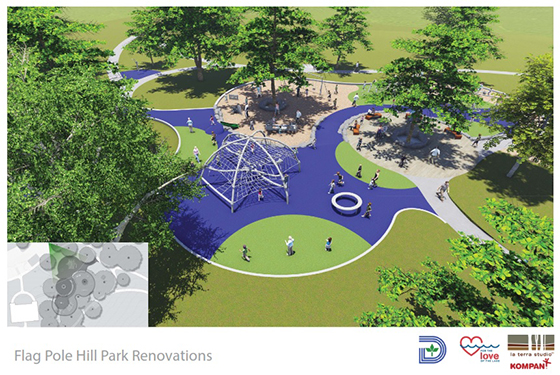 Audelia Road Public Library
In 2016, we raised funds to renovate the children's area of the Audelia Road Public Library in Lake Highlands. We purchased new furniture, computers, books, educational toys, play mats and other new items to make this library more kid friendly.
Light Up the Highlands
Proceeds from the 2015 Run the Highlands were used to hold the community's first-ever tree lighting ceremony, Light Up the Highlands in November 2015. The recently held 3rd annual Light Up the Highlands had almost 3,000 people in attendance, and we are excited to continue hosting this wonderful community holiday celebration with the support of our sponsors.
Wildcat Fun Zone at LH North Recreation Center
Proceeds from the 2014 Run the Highlands were used to install an indoor play area at the Lake Highlands North Rec Center. This area is for children under age 5 and is an excellent venue for kids to play indoors. This indoor playground is the first of its kind in our area and we look forward to it being utilized by the Lake Highlands community!
Play Art Sculptures
In 2013, work began to create beautiful, playful art for the Lake Highlands North Recreation Center. The pieces started as large granite boulders which were shaped into animals and other interesting pieces that lend themselves to being enjoyed by people of all ages. We hope that this natural, kid-friendly art will be a delight in the Lake Highlands Community for years to come.
Boulevard Banners
We continue to help advertise exciting Lake Highlands events including the 4th of July Parade, Oktoberfest and the Holiday in the Highlands Home Tour, by creating boulevard banners.
These banners are displayed across Lake Highlands and help promote these spectacular events to our whole community.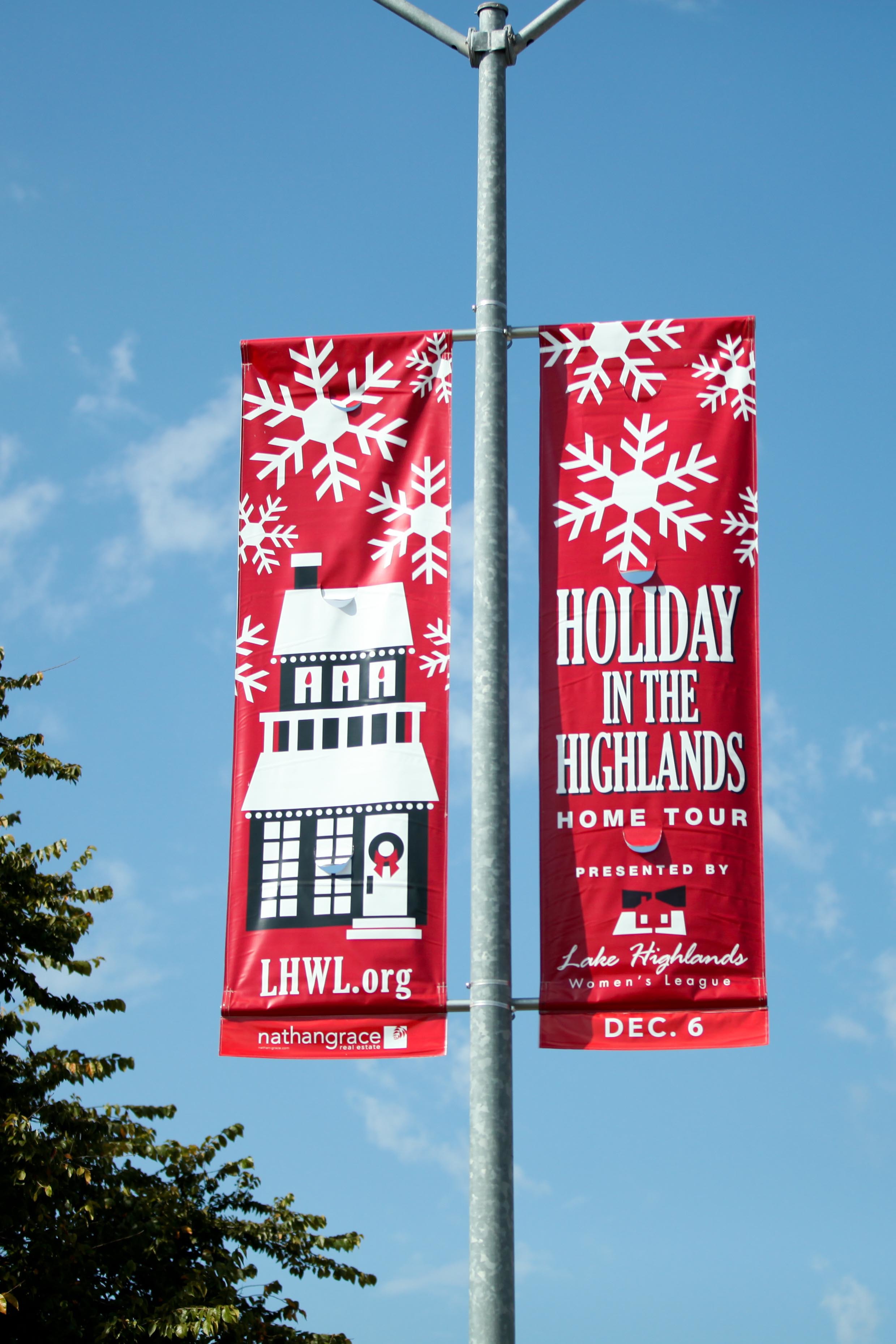 Recreation Center Amenities and Mural
In celebration of the re-opening of the renovated Lake Highlands North Recreation Center, a large mural was created and installed in the main hallway. This mural highlights the wonderful neighborhood center of Lake Highlands North Park. Additionally, new amenities for the Rec Center including updated seating and furniture, new window coverings and mechanical screenings for the roof were provided.
Fieldcrest Park
Exciting updates were made to Fieldcrest Park. The area was enhanced with a family picnic area, a shade structure, and more seating.
Pond Restoration
The pond along the trail at Rec Center was completely revived by dredging, building a dam, installing an aerator and embellishing the pond with lovely stonework. It has been a delightful enhancement to the trail and has hosted fishing tournaments and Haunted Trail events. We look forward to many new memories at the pond.
One Mile Trail Loop
The winding one mile loop trail was added the grounds of the Lake Highlands North Recreation Center. The trail has been a popular trail to jog, walk, bike, or roller blade for neighboring residents.
Splash Park
Two years of fundraising were planned in order to add amenities to the popular splash park. Our organization was able to contribute $41,000 to create a state-of-the-art spray ground with several "upgrades" that the kids adore.